Halibuy Fashion Gothic party for the weekend! New gothic items arrive!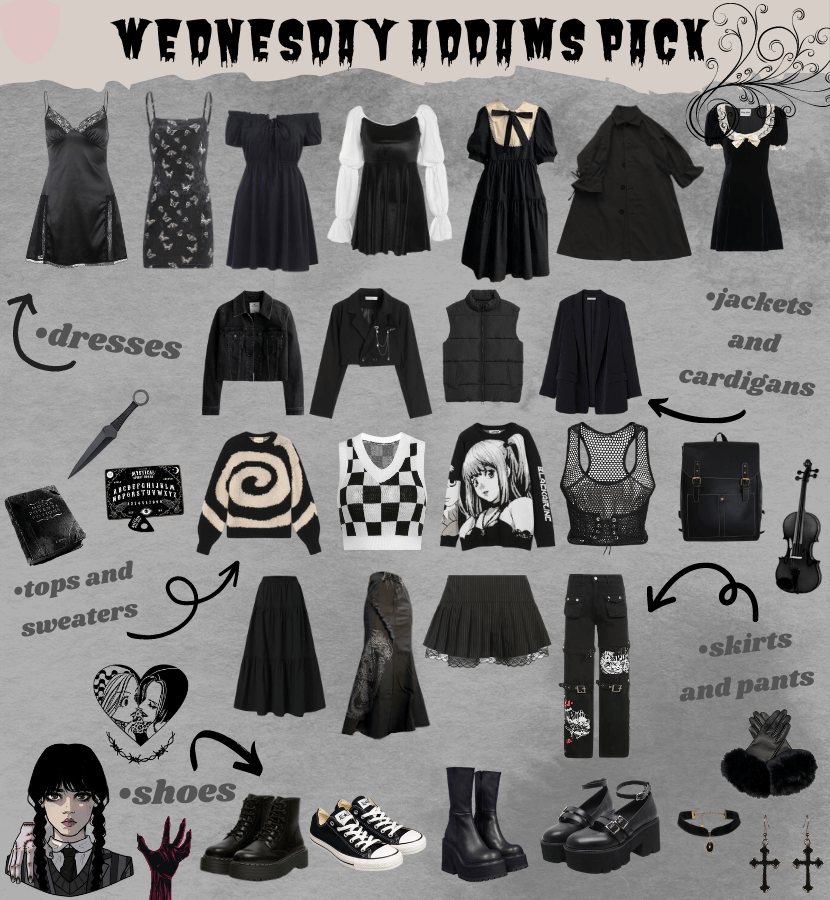 GOTHIC PRINCESS
Goth outfit ideas. The goth aesthetic is characterized by dark, mysterious, and sometimes morbid fashion and style. Here's a goth outfit idea for girls:
1. Top: Black lace or velvet Victorian-inspired blouse with long sleeves and high neck. Alternatively, a black corset or a band tee of a classic goth band can work.
2. Bottoms: Black velvet or leather mini skirt. If you prefer pants, consider high-waisted black skinny jeans or leather pants. For a more romantic goth look, a long, flowing black skirt with layers of lace or tulle can be a great choice.
3. Footwear: Platform boots, combat boots, or lace-up ankle boots. For a more elegant look, consider pointed-toe flats or heels with silver or black hardware.
4. Outerwear (if needed): Long black trench coat, velvet jacket, or a faux fur coat. A black cape can also add a dramatic touch.
5. Accessories: Choker necklace, preferably with silver or pewter pendants like bats, moons, or crosses. Silver rings with gemstones or gothic motifs. Fishnet or lace gloves. Dark nail polish, preferably black, deep purple, or blood red. Black or dark makeup with emphasis on the eyes. Consider dark eyeshadows, eyeliner, and dark lipstick shades like black, deep red, or purple.
6. Bag: Black leather or velvet handbag with silver hardware. A coffin-shaped purse can be a fun addition.
7. Headwear: Wide-brimmed black hat or a lace headband. If you're into a more punk-goth look, consider adding spikes or studs.
8. Hosiery: Black fishnet tights or stockings. If you prefer a more modest look, opaque black tights work well. Remember, the goth aesthetic is all about self-expression and individuality. Feel free to mix and match elements based on your personal style and comfort. The key is to embrace the dark and romantic elements of the goth subculture while making it your own.
Check out Halibuy Fashion Customers' reivews
---